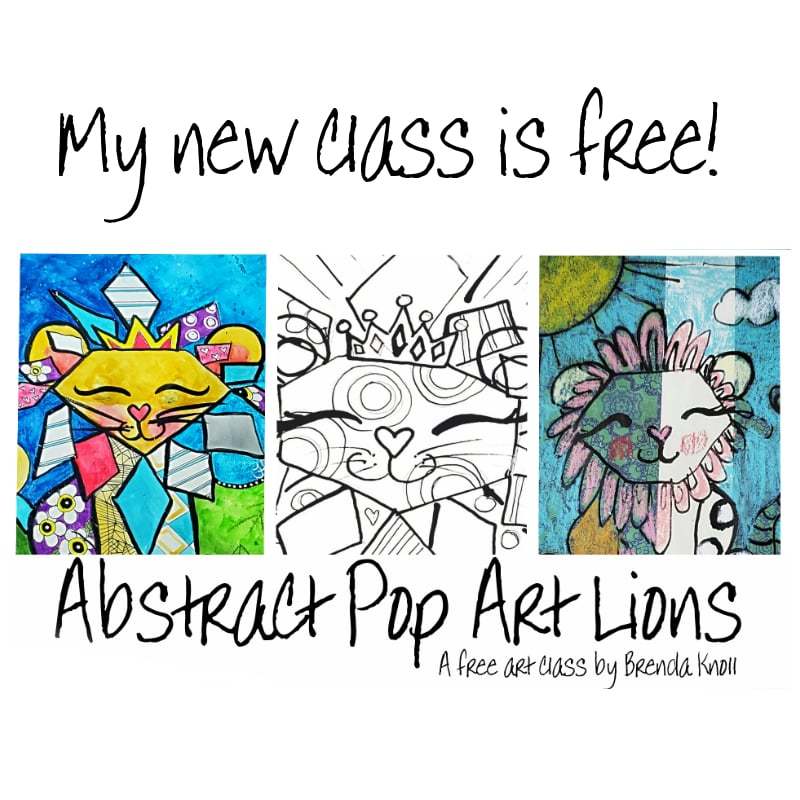 Abstract Pop Art Lions video class by Brenda Knoll
On Sale
Hi there
This class is a free class for folks considering taking any of my online art classes.
This class will teach you how to develop and create your own custom abstract pop art lions using my abstract pop art lion design. I previously had used Skillshare exclusively as my platform for teaching online classes but decided to utilize a different platform going forward into 2021. As a result, at this time I am transitioning my online courses to  my website and developing 4-8 free courses for my existing students as well as those wanting to check out my teaching style and content before trying any of my paid online courses which are currently starting at $10 each.
You can see my course catalog on my website under the tab 'classes' or try this link: https://brendaknoll.square.site/classes
I am learning how to use this platform as an online class content delivery system so please bear with me. Thanks!
Please respect the following rules governing my design, composition, techniques and other elements of this class.
1. You may use the artwork developed from this course commercially and you can sell the art created in this class as long as your artwork is not exactly like my artwork, then we are good
2. You may use my course and the techniques you learn in my class to teach live in person classes, EXCEPT in IDAHO. You are welcome
3. If this is a paid course, you are not allowed to share the class link. The prices for my classes are affordable and I am allowing you to teach the course in person.
4. You may NOT teach my course, composition or the techniques you learn here in any way shape or form online, this is how I make my money so please be respectful and adhere to this generous copyright, thanks.
That's it for the rules, here are the requests
1. If you post your artwork online, please support my artwork by promoting my classes and/or tagging my social media profiles, liking subscribing following leaving a positive review, sharing, all those things you do on the internet that cost you nothing but means a lot in the digital world, thanks! Any or all of those shootouts that promote my art or classes is greatly appreciated, thank you in advance
2. If you post your artwork related to this course online, please use the custom hashtag #brendaknollclasses as this provides feedback to me as a teacher plus I get to see your artwork but also have an idea about how effective the teaching is.
Thanks so much for taking this class
Support my art: please like, share, pin, follow, subscribe, leave a positive review etc… all these things cost you nothing but mean a lot on the internet.
Website
http://brendaknoll.com/
Original works for sale on ebay: https://www.ebay.com/usr/brendagoodlife
Buy me coffee: https://www.buymeacoffee.com/Brendaknoll
My Social Media
https://www.instagram.com/brendaknoll.art
https://www.facebook.com/BrendaKnollArt
https://www.skillshare.com/r/profile/Brenda-Knoll/2342444
https://mobile.twitter.com/mrsbrendaknoll
https://www.youtube.com/user/BrendaBoyer
Merch/Prints https://www.redbubble.com/people/BrendaKnoll
Amazon affiliate links support my art at no additional cost to you, please consider using mine, thanks.
My list of favorite art supplies: https://amzn.to/2PPXcXE
My wish list of art supplies if you want to support my art directly by fulfilling my wish list :) https://amzn.to/2NbCQXa
My favorite professional watercolor paints:
https://amzn.to/2CbC9qM
My second favorite watercolor paints: https://amzn.to/2NeqLkf
Link to my profile on Skillshare if you do not have skillshare my students get 2 free weeks so please consider supporting my art https://www.skillshare.com/profile/Brenda-Knoll/2342444